| | |
| --- | --- |
| | Did you hear that? This article refers an upcoming content that has yet to be implemented. The content may be changed over time based on the progress. |
TimTom is a character who is planned to appear in Baldi's Basics Plus.
Description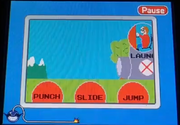 Nothing major is revealed to describe TimTom's appearance, other than the fact that he is a child. But there's a chance that he will have red shirt, blue pants and brown short hairs (similar to Playtime and Filename2) like his sprite in mystman12's "Baldiman" microgame.

Personality
Revealed in the comics, while his personality is unclear, TimTom constantly throws a baseball at Baldi's head as a running gag in the comic strips. It's possible that TimTom could actually be an antagonist toward Baldi.
Artificial Intelligence
Currently, it is unknown how TimTom's mechanic should work in Baldi's Basics Plus.
Trivia

TimTom first appeared in the Ice Block comic of mystman12's old comic strip series Baldimore, where he throws a ball at Baldi from the end.
TimTom appeared in mystman12's WarioWare D.I.Y. microgame "Baldiman". In this microgame, Baldi has to dodge TimTom's baseballs and destroy his giant baseball launcher.[1][2]

Additionally, TimTom is named as Tim-tom in the microgame's description.

TimTom's possible appearance in Baldi's Basics Plus is first confirmed by mystman12 when showing off the Ice Block comic.[3]
References
↑ "It's #MicrogameMonday! Now every *other* Monday because it's easier that way! :P "Baldiman" was kind of a sequel to the #Baldi #microgame I first showed earlier this year. In it you control Baldiman, Baldi's superhero alter-ego (Even though it's clearly just Baldi... Not even..." - mystman12. November 12, 2018. Twitter
↑ "a mask or anything! :P) and must destroy Tim-Tom's (Who was a character from my old Baldi comics) giant Baseball mech. The gameplay is pretty simple, but I've always really like this one regardless!" - mystman12. November 12, 2018. Twitter
↑ "Alright, the tweet is at 500 retweets! Comic no. 2: This one is a lot harder to explain than the previous one. So the idea was that the strip would have this running gag where this crazy kid named TimTom (Yes, he could potentially be a new character!) would hit Baldi's head..." - mystman12. August 9, 2018. Twitter
Community content is available under
CC-BY-SA
unless otherwise noted.