"
Remember kids: Safety scissors are great for cutting: Paper; Jumpropes; Wiring; Homework
"
 

— Poster description
Safety Scissors is an inventory item found in Baldi's Basics Plus.
Description
Safety Scissors are a pair of magenta scissors with symmetrical circular finger holes and oval-shaped plastic blades similar to actual safety scissors.
Usage
There is a poster that explains what the Safety Scissors do, saying that they are used to cut paper, jump ropes, wiring, and homework. Currently, the item can be used in three ways by cutting:
Playtime's rope and skip her mini-game. When the scissors are used on Playtime's skipping rope, her smile will turn into a frown. She will then say "Oh! That makes me sad!" and she won't be able to play with the Player for 15 seconds.
1st Prize's wires to cause him to malfunction and spin for 15 seconds which prevents him from pushing the Player.
Beans' bubble gum to get out of it faster.
Safety Scissors should typically be used on Playtime due to her being a large obstacle - although it's also a good idea to use them on 1st Prize and Beans when absolutely necessary.
Locations
Main Gameplay
The Safety Scissors item is commonly found in the Classrooms, Faculty Rooms and Library.
Other Appearances
Trivia
General
When Beans was first introduced in the Kickstarter exclusive demo, using the Safety Scissors after getting hit by his bubble gum will not work. In the Baldi's Basics Plus game's V0.1.2, Safety Scissors can now be used to cut out of Beans' bubble gum.
While playing jump rope and hit by Beans' bubble gum, using Safety Scissors will cut Playtime's jump rope, but not the bubble gum.
Baldi's Basics Classic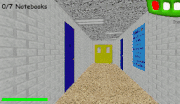 Full Game Early Demo
The Safety Scissors are unused but found in the game code.
Glitches
When clicking them too much while Playtime approaches, the Safety Scissors are gone yet Playtime's rope isn't cut.
In Baldi's Basics Kickstarter Exclusive Demo and the first release of Baldi's Basics Plus, using Safety Scissors will skip playing jump rope, but it doesn't make Playtime sad. This was later fixed in the full game's V0.1.2 update.
The safety scissors can sometimes come with an error, with a line in the middle of the sprite.
Gallery
References
Community content is available under
CC-BY-SA
unless otherwise noted.