"
I'm a dude who likes programming! Games! I've got big plans for SmileBASIC! Half of which will probably never be released! YAYA!!!
"
 

— mystman12's description, SmileBASIC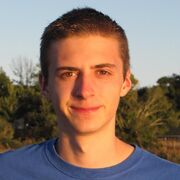 Micah James McGonigal, also known as mystman12 as his account name on several websites, is the creator and only developer of the Baldi's Basics series as well as the founder of Basically, Games!.
History
Micah is from Waynesboro, Virginia, USA. Nothing much is actually known about his personal life at the time, except that he has an older brother, Ethan, and a sister, Cady.
He created Baldi's Basics in Education and Learning as the part of the annual Meta-Game Jam, which ended up taking 2nd place. Despite being close to first, Micah's game was an instant hit, with YouTubers such as PewDiePie, Jacksepticeye, and Markiplier, who began playing the game.
Micah also already made other games before the Baldi's Basics series. Their games were made for Petit Computer.
Personality
Micah is a hardworking person who has a passion for making games. He can be somewhat funny, one example being Baldi's Basics, which is supposed to be a nonsensical and funny game. Also, he likes memes, retro games and Nintendo games, which influence the creation of his games.
Projects
Petit Computer
Baldi's Basics
Main article: Basically, Games!#Projects
Social media
Trivia
Gallery
Videos
References