Locations are places in Baldi's Basics Plus to identify a point or an area from elsewhere.
Description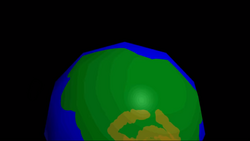 The entire universe of Baldi's Basics Plus basically took place in a poorly-modeled, low-poly planet Earth from the void-like galaxy, as seen in Kickstarter's Thank You! video.

List
Super Schoolhouse
Main article: Super Schoolhouse
The Super Schoolhouse is an educational building and a primary setting of Baldi's Basics Plus where the Player and others attend.
The common locations are: Hallways, Classrooms, Faculty Rooms, Principal's Office, Janitor's Closet and Outdoor Areas.
The special locations are: Cafeteria, Playground, and the Library.
Field Trip Locations
Field trips set in the outer places, just outside of the Super Schoolhouse. The locations include:
Hidden Areas
So far, TestRoom is currently the only hidden location. Found in Baldi's Basics Classic, it is accessed by typing 31718 in the You Can Think Pad.
Community content is available under
CC-BY-SA
unless otherwise noted.