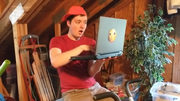 Joshua Valent is mystman12's cousin who collaborated for the Baldi's Basics series.
He requested some items, the Energy Flavored Zesty Bar's name and the WD-NoSquee, for Baldi's Basics Classic.[1][2]
Joshua also helped with directing the Kickstarter promotion video for Baldi's Basics Plus, and even appeared briefly as a cameo in the scenes where he is playing Baldi's Basics Classic with his laptop while using the stationary bike and doing a T-pose with a distorted face, resembling filename2 after mystman12 starts laughing.

References