For the location, see Johnny's Store.
"
Hi, I'm Johnny!
"
 

— Johnny



Johnny is a character in Baldi's Basics Plus who runs his store.
Description
Johnny is a human with a design based on a 2D drawing, with pale skin, cyan long-sleeved clothing, and shaggy hair which covers his eyes. His 3D version looks different: he is in a T-pose, his mouth is wide open, he has shorter and lighter hair, and his skin is darker.
Personality
He apparently has a benevolent personality, greeting the player upon seeing them, and offering items in exchange for the game's currency. He also seems to have a grim sense of humor, as he talks about starving if the player buys something. He will also frown if the player buys nothing or tries to buy something without enough You Thought Points.
Role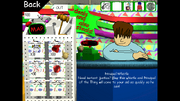 He is the shopkeeper of the store, and will greet the player upon entering. He will offer filled maps, items, and characters to expel. Though, these things will cost You Thought Points in order to purchase them.
Trivia
General
His name was first revealed in the concept art for Johnny's Store.
Baldi's Basics Plus
Unlike other characters with moving mouth, Johnny has multiple animation clips for each speech, so he is the only character in which his mouth movements connect with what he is saying.
When seen from inside the elevator, Johnny has a full 3D model. In his store, he is redesigned into a 2D flash art.

It can be guessed that he was originally going to be 3D all the time.

Johnny is the second character to be voiced by Cady McGonigal, the first being Mrs. Pomp.[1] Furthermore, Cady is the one who came up with Johnny since her and mystman12 were kids, but she never decided what he should look like, so mystman12 did the drawing.[2]

Because of this, his voice sounds slightly feminine.

Johnny is the first character for Baldi's Basics Plus that is not featured on any floor.
After Johnny finishes his "Thank you! My parents would have been so proud that I made a sale." line, he would start frowning. However, the other quotes when the player buys an item make Johnny smile after he finishes talking. This is most likely due to something happening to Johnny's parents offscreen.
If Johnny says "See ya later. I'll still be here!", he will be smiling, while other quotes when leaving the store after buying nothing will make him frown.
Johnny is the only character who does not have a full body. He is only seen sitting.
In V0.2, there were captions for Johnny, but they barely appeared in the game and only said the file names of the quotes, plus, the caption display remained appearing until the player is on a floor even when the quote is finished. In V0.2.1, they were fixed, but disabled for not being important for gameplay. They were then re-enabled in V0.3.3.
Prior to V0.2.2, after he said "This will fill out your map...", he would say "...for the next level.". The last line was removed in order to avoid confusion, since the player can enter Johnny's Store when they fail the current level while having You Thought Points.
One of Johnny's unused lines, "Come back when you're a little... MMM- Richer!" is a quote from the infamous CD-i Link games, more specifically, Link: The Faces of Evil and Zelda: The Wand of Gamelon.
In the caption "I didn't realy want food today anyways...", the word "really" is misspelled as "realy".
Quotes
Gallery
References
↑ "He's voiced by my sister if you can believe it, same VA as Mrs. Pomp!" - mystman12. September 12, 2020. Twitter