The Baldi's Basics series contains a lot of inspirations and references to elements (e.g: educational computer games and computer technologies of 1990s) gathered by mystman12.
Video Games
Sonic's Schoolhouse

Super Mario
ToeJam & Earl
Computers
Microsoft
One of the windows has a stunning similar shape to Microsoft Windows' 1985 trademark logo.
The BSODA item, its name and slogan, references the Blue Screen of Death, an error screen displayed on a computer following a fatal system error.
Products
WD-40
WD-NoSquee's name and design are inspired by WD-40. The item code in the game is referred as "Wd40".
Kirkland Signature protein bar
Libman Precision Angle Broom
Social Medias
PilotRedSun
It's a Bully's "I'm gonna take your candy." line is a direct reference to the "preschool bully" video.
Although unconfirmed, Playtime's appearance, even the eyes and hair, has a very similar style to PilotRedSun's.
0th Prize was supposed to be Gotta Sweep's human form that mystman12 tried to draw with the similar style to PilotRedSun's.
Cartoons
The Amazing World of Gumball
The Principal of the Thing's whistle is inspired by the character "Banana Joe" from The Amazing World of Gumball, however Principal Of The Thing has a much lower pitched whistle.
Both The Amazing World of Gumball and Baldi's Basics share an approach of making characters from different styles, such as drawn or 3D characters.
Homestar Runner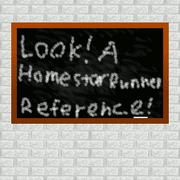 One of the chalkboards says "Look! A HomestarRunner Reference!".
"Runner Star Home", a music used for the Kickstarter promotion video and (possibly) the upcoming full game, is also a reference.
Community content is available under
CC-BY-SA
unless otherwise noted.