For the challenge, see Grapple Challenge.
The Grappling Hook is an inventory item in Baldi's Basics Plus.
Description
The Grappling Hook is a 3D model of a white hook and a gray handle attached with a black string. There is a number in parentheses near the name of the item to indicate the number of times the player can use it.
Usage
Main Gameplay
The Grappling Hook, upon used, will swiftly attach to whatever solid surface the player aims at, then pull the player towards that target at a very high speed.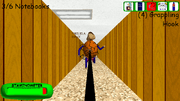 However, if It's a Bully is in their sight after he spawns, he will block it and steal an item when they reach him. If it hits a surface, then it has a crack and the crack will disappear after the player reaches the target completely.
The Grappling Hook can be used to escape from characters and/or skip their challenges, especially Playtime's jump rope minigame. However, if the player is stuck in something for a few seconds or teleported by other characters after the Grappling Hook hits a surface, it will be destroyed with a snapping sound.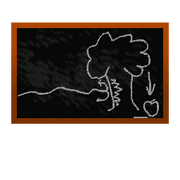 Using this item to hit the trunk of a tree that bears An Apple for Baldi will cause the apple to fall to the ground and be able to pick up. One of the classroom chalkboards has visual instructions for how to obtain An Apple for Baldi using a Grappling Hook.
While the Big Ol' Boots is activated, the player will not be pulled until the effect of the Boots expires.

Main Gameplay
A Grappling Hook can rarely be found in faculty rooms connected to large special rooms, the Principal's office during the party event, in the mystery room, and as one of the possible rewards when successfully completing a field trip. It is also available in Johnny's Store and can be purchased with 200 You Thought Points.
Endless Mode - Medium





A Grappling Hook can be found in a classroom along with a Quarter.
Other Appearances
Trivia
Baldi's Basics Plus
Glitches
Baldi's Basics Plus
Baldi's Basics Full Game Early Demo
Sound
Caption
Description
N/A
When the player uses the Grappling Hook.

WARNING: LOUD!

Grappling Hook clang sound.
Loop sound for the Grappling Hook.
*SNAP*
Grappling Hook snapping.

WARNING: LOUD!
Gallery
General
Prototype