The Forest is the main location in during the camping trip quest in Baldi's Basics in Education and Learning.
Description
The location takes place at almost midnight, surrounded by numerous amounts of identical trees.
Gameplay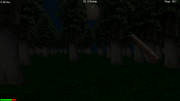 It is an ominous location at which
the Player
must scout for
firewood
in order to keep the
campfire
going.
Baldi
will start his pursuit of the Player if the fire goes out. When the Player puts firewood into campfire, they will earn additional
points
.
Once the timer reaches 0, the Player wins and will get some rewards such as BSODA and Energy Flavored Zesty Bar, depending on their score.
Trivia
When the promotional demo was first released before the next update, the forest "wall" textures are not added, exposing more of the dark skies. The "NO" signs are not implemented as well.
Gallery