| | |
| --- | --- |
| | This article lists existing features that were cut, in other words: unused, scrapped, or removed. These can be found in the game files, older updates, or pre-released/reworked content. |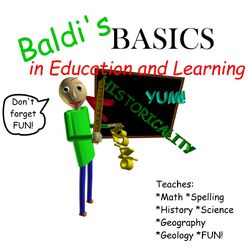 There are several subjects ultimately scrapped during the first development on the original version of Baldi's Basics in Education and Learning.
mystman12 originally planned to add more subjects than just math, including spelling, history, science, geography, geology, and English. He also intended for every classroom to have a name for each subject.[1] Later however, he realized that some subjects (history and spelling) alienate players that live outside of the USA. These people would not be familiar with American history nor English, thus making it difficult for them solve the questions. Because of this and time constraints, he decided not to include them, leaving math as the only subject in Baldi's Basics Classic.
mystman12 did confirm that more subjects will be added for the full game's release, but will probably focus more on logic-based subjects rather than fact-based, like math, shapes and patterns,[2] etc.[3]
Upon hacking, all seven notebooks are revealed to have unused assigned subjects.
| Notebook | Subject |
| --- | --- |
| | Geography |
| | English |
| | Spelling |
| | History |
| | Math |
| | Geology |
| | Science |
References
↑ "@C. Doucet Yeah, like I've explained before, I plan on keeping problems logic-based. Besides things like math, this could also include things like shapes and patterns. I haven't put a ton of thought into this area (As it's not really the main focus of the game), but defiantly want a decent amount of variety here." - mystman12's Kickstarter comment
Community content is available under
CC-BY-SA
unless otherwise noted.