"
Try your hand at one of Baldi's crazy challenges!
"
 

— Description, Baldi's Basics Plus
Challenge Mode, also known as Challenges, is a mode in Baldi's Basics Plus.
Gameplay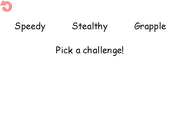 Challenge Mode contains three challenges the player can choose and play. These challenges usually offer a twist on the game's regular gameplay, mostly by changing certain mechanics or giving certain restrictions to the player.
All of the challenges use pre-generated maps, so the layout is always the same every time the player plays it.
After the player completes a challenge, Baldi's "WOW!" voice will play and he will give the player a realistic thumbs-up, saying: "Wow, you did it! Baldi gives your performance a up! See if you can win them all!".

List
Trivia
| | | |
| --- | --- | --- |
| " | Pick a challenge! Mouse over a challenge to see its description! Good luck! | " |
It is planned that the challenges will be unlocked if the player does certain things in the Hide-and-Seek mode, like discovering stuff, reaching certain points in gameplay, completing other challenges, etc.[1]
Random events are absent in this mode.
Glitches
References
↑ "My current plan is to unlock challenge maps as you discover stuff in the main game. So for example, you wouldn't unlock the grappling hook challenge map until you find the grappling hook in the main game. I'll probably end up making some challenges unlock by other means, like reaching a certain point in the main game or beating other challenge maps. So while some challenges may be locked behind beating the game, most will not." - Baldi's Basics Plus Steam Community Hub