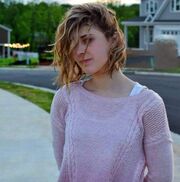 Cady McGonigal is mystman12's sister and a music composer for the Baldi's Basics series, responsible for making music tracks for the Kickstarter campaign video. With "Hayride Too I Don't Even Care" and "Creepy Old Computer" used, the rest of the tracks have yet to be used for Baldi's Basics Plus or other projects.
She is also a voice actor of Mrs. Pomp and Johnny.[1][2] She also came up with a character Johnny, since Cady and mystman12 were kids, but never decided what he should look like, so mystman12 did his appearance.[3]
Social media
Note: These pages are no longer available.
Composed tracks
Runner Star Home
Cheap Cutscene in a Cheap Edutainment Game
Flashback
How to Eat Cheese
Meena Monna Moop
My Brother is a Clown
That Flips My Hat Backwards
The Side Effects of School
She Made a Mistake Right at the End
Just Messin' Around
Cheer for the Sport!
New Thing Unlockabled!
99
References