For other uses, see Baldi (disambiguation).
Baldi's Basics in Education and Learning: Development Build is a testing game by Basically, Games!, revealed on March 12, 2019. It was only a gameplay footage to show the early preview of Baldi's Basics Plus, but no download is available, as it is only for development.
Development progress
On May 8, 2019, new gameplay footage of Baldi's Basics Plus was revealed by mystman12, which shows functioning field trips and Baldi as a programmed NPC, who chases the player in the footage.[1]
On May 13, 2019, mystman12 made a new post on Twitter showing more new footage of Baldi's Basics Plus that is in development.[2] It shows Playtime, now also a programmed NPC chasing the player down a hallway, but once the player goes into a room, she turns around and goes away. Playtime is the 2nd programmed NPC in the development build that has added after Baldi.
On June 18, 2019, a new status update was posted on the Kickstarter page.[3] It presents all characters from Baldi's Basics Classic. The page also described a few changes will be applied in the Baldi's Basics Plus, about the behavior of original characters.
On June 23, 2019, mystman12 posted some new screenshots in Twitter.[4][5] There was a glitch where the tables got clipped through the walls, doors, and ceilings, and were put in where they were not supposed to be put. This glitch was fixed quickly.
On July 23, 2019, another status update has been posted on Kickstarter.[6] It mentions that mystman12 plans to release the two demos, the Kickstarter exclusive demo, and a public demo. There are three screenshots with new structures and random events. The schoolhouse has been flooded. At outside, there is a merry-go-round, and a button on the fences; this seems like a playground. There's a red keycard-like button on the swinging door with Baldi behind with a text "25 ¢ PUSH TO REJECT".
Features
The build features the randomly generated levels, a random event, a map, and the elevators mostly shown in the Kickstarter updates. The player can hold up to 5 items instead of 3 in Baldi's Basics Classic.
All NPCs in Baldi's Basics Classic have been programmed in this build, but some of the characters have different behavior than Baldi's Basics Classic.
When collecting notebooks, the You Can Think Pad does not appear, and instead, a notebook is simply added to the item counter.
Some hallways have different textures and mystman12's avatars attached on their walls, and all class doors have red "DOOR" text instead of the number 99.
Randomly, white fog can appear and the song, Creepy Old Computer from the Kickstarter OST, starts playing. There is also a sound when the event starts, but it is not applied in any released game or demo as of now.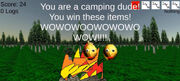 Field trips have also been added on the second footage video, and when the player goes into the bus it shows an image of the bus with the word "
" on it which is also used on a loading screen. After a certain amount of time, the player joins in the camping field trip. Once the timer runs out, the "You are a camping dude! You win these items! WOWOWOOWOWOWOWOW!!!!" text appears and three items will be shown in front of the player. One is the tree and others are distorted Baldi heads, but all of them are placeholders. The player will be brought back to the school after a few seconds later.
Gallery
References