For other uses, see Baldi (disambiguation).
"
Enters early access in spring 2020!
"
 

— Tagline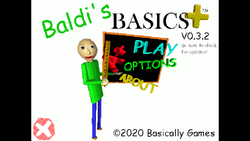 Baldi's Basics Plus Early Access is the early access version of Baldi's Basics Plus. It adds some new features, such as Field Trips Mode, achievements, save system, a custom lighting system, and more. It was released as V0.1 on June 12, 2020.
The initial launch cost was US$10, but the price will be increased as the game is developed.[1]
The Mac OS version would have to delay to release. However, after finding the issue making the game unplayable, the launch was also supported for Macs.[2]
Summary
Baldi's Basics Plus enters early access June 12, 2020!

Check below for more info on the current state of the game!
Baldi's Basics Plus is like the original game, but PLUS! The same cruddy edutainment horror type parody theme is back, but with hugely expanded gameplay features, including procedurally generated levels, field trip minigames, crazy random events, PLUS more characters, more items, and more chaos!
This game is not what it seems...
Baldi's Basics Plus is a survival horror roguelite that parodies cheap 90's edutainment and never takes itself too seriously. You will encounter strange characters, find useful items, go on field trips and more as you explore Baldi's ever changing super schoolhouse, and as you explore the game itself, you'll start to realize it is not what it seems...
So, what exactly do you do in this game? You collect notebooks while playing hide and seek with Baldi! Sounds easy right? Wrong. Baldi can hear many of your actions, and he uses those sounds to try and find you. He's also invited many friends to come and play, who can cause a lot of trouble. Get to know them though and you can use them to your advantage! You'll also find lots of items scattered around the school. These are the key to success. Use them wisely if you want to have a chance at beating Baldi!
Near infinite replayability
Baldi's Basics Plus randomizes so many different things, every time you play will be a different experience!
Procedurally generated levels - The levels change every time you play! Not only will the layout change, but the types of rooms and obstacles, you find will change too!
Random events - One moment everything is fine, the next the school is flooding, or fills with fog! Random events can begin at any moment, so make sure you're ready for them!
Mixing and matching characters - Each time you play, you'll get to see random combination of characters.
All these variables add up to make each playthrough a unique experience!
Lots of ways to play
Baldi's Basics Plus features many different modes to test players in different ways!
Main Mode - Complete a series of randomly generated levels to win! Run out of lives and you'll have to start over.
Endless Mode - See how many notebooks you can collect before being caught by Baldi! Compete by playing on pre-made levels, or go crazy and try playing on a randomly generated one.
Challenge Mode - As you play more of the Main Mode, you'll unlock challenges! Challenges offer unique scenarios you won't find in the main game. One might have you sneaking around the school to avoid being seen by the Principal of the Thing, another might have both you and Baldi running at super high speeds!
Field Trips Mode - Play field trips found in the main game whenever you like! You can try to set high scores, or just practice!
Differences
TBA
References
↑ "The initial price will be US$10. I plan on increasing it a few times as the game develops." - Baldi's Basics Plus Steam Community Hub
↑ "Update: I've figured out what is causing the issue on Mac! I should be able to come up with a workaround and re-add Mac support soon. ... The issue is just that, for some reason, the Mac OS build of the game is unplayably slow. It runs at less than 1 FPS on my 2014 Macbook Pro and crashes on my brother's older Macbook. The Windows and Linux versions perform fine, even on hardware less powerful than on my Macbook. Until and unless I can figure out what the cause is and fix it, I won't be able to release a Mac version." - Baldi's Basics Plus Steam Community Hub
Community content is available under
CC-BY-SA
unless otherwise noted.