| | |
| --- | --- |
| | Uh oh. Something is not as it seems about this page. It seems bad alright. The game has been detected with hidden deep lore, with possible spoiler details uncovered. Wait... Was it just a bug that happened regularly? - 99 |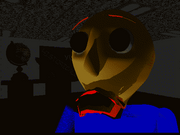 BadSum is a screen that appears when the Kickstarter Exclusive Demo is pirated or the save file is corrupted.

Appearance
In the screen, there is a character resembling Baldi but with a few differences. They have a blue shirt while the original Baldi has a green one, large pupils, and no hair unlike Baldi who has a single string of hair. Their face expression seems to be frightened and scared, possibly due to them worrying about people pirating the game or the save file being corrupted, and their expression is also one Baldi has never done before. It is unknown if they have different colored pants than Baldi due to not being able to see their full body appearance in this screen. Unlike Baldi's Office, there seems to be a globe on the desk.
There is currently no specific info about the character in the screen as nothing has never been said about this character other than Baldi being in the game.
In the Hide-and-Seek ending, a randomly colored BadSum screen will appear after Baldi finishes dancing.