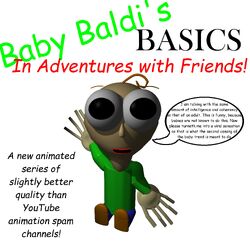 For other uses, see Baldi (disambiguation).
Baby Baldi's BASICS In Adventures with Friends is an April Fool's prank made as an announcement of the upcoming animated web series that would have a "slightly better quality than YouTube animation spam channels", as revealed by Basically, Games! on April 1, 2020.[1] It was stated that the show will stream exclusively on Oaxis, while an application version will arrive to Ouya and the Panasonic Jungle.[2] On the next day, Basically, Games! announced that the web show announcement is obviously a joke for April Fool's Day with an image of a mildly upset Baby Baldi.[3]
The show would have starred Baldi's juvenile version "Baby Baldi", who is merely a modified Baldi model with a large head, hands, and eyes while having a smaller nose, mouth, and body. His singular hair bears a curled shape. He also appears to be made as a spoof of baby incarnations of media characters, such as "Baby Yoda" from Star Wars' The Mandalorian, Baby Nut from the Planters food product and Baby Sonic from the Sonic the Hedgehog 2020 film.
Baby Baldi's speech bubble reads:
| | | |
| --- | --- | --- |
| " | I am talking with the same amount of intelligence and coherency as that of an adult. This is funny, because babies are not known to do this. Now please turneth me into a viral sensation as that is what the second coming of the baby trend is meant to do | " |
Trivia
The idea of the joke comes from mystman12's response when someone asks if there would ever be a Baldi's Basics prequel.[4]
Baby Baldi still has that gray spot on his elbow on the right arm, probably because it is just an edited version of Baldi's model.
Gallery
References